"We have 12 years to limit climate change catastrophe" according to the UN. A recent report from the International Panel of Climate Change (IPCC) has shown us the devastating effects climate change has had, and will have on the planet. In turn, it also suggests what we can do to reduce the impacts, and eventually reverse the damage that has been caused. So, what can you do to help?
It is becoming more apparent that each and every one of us needs to do our bit for the planet. There are many little changes we could all make to our everyday life that won't impact us in the slightest. But what about the bigger picture? At the end of the day, we need to make changes that will be of great benefit to the environment.
For example, switching out your car for a bike. This may seem daunting, but even using a bike for shorter journeys will make a difference.
This is where E-Bikes come in. With the addition of the electrical motor, you will receive assistance for longer journeys, or for those uphill battles we all face.
What The Report Actually States
The lengthy report goes through the impacts of global warming, and what needs to change in order to live on a healthy planet.
It shows how greenhouse gases and fossil fuels have devastating consequences on the Earth, including the melting of the ice. In turn, this causes rising sea levels and extreme weather.
Since the industrial revolution, we have been consistently burning fossil fuels. When we burn these resources, CO₂ is emitted, which actually traps heat in the atmosphere. This may seem disheartening, but experts have stated that, "Although the challenges are huge, there is still time to create a thriving, sustainable future".
How Do E-Bikes Help?
Overall, we MUST limit global warming to 1.5°, no questions asked. In the meantime, we also have as little as 12 years to act on climate change, and slash emissions by 45%. While there are many things that can be done to help, including: using less water and reducing your meat intake, reduction of car usage will make a generous difference.
If we followed in the cycling footsteps of countries like Denmark, the EU could cut its transport greenhouse gas emissions by more than 25%. Which if anything, is a key step in the right direction. Add on the USA, and this target is more than reachable by using cars less alone.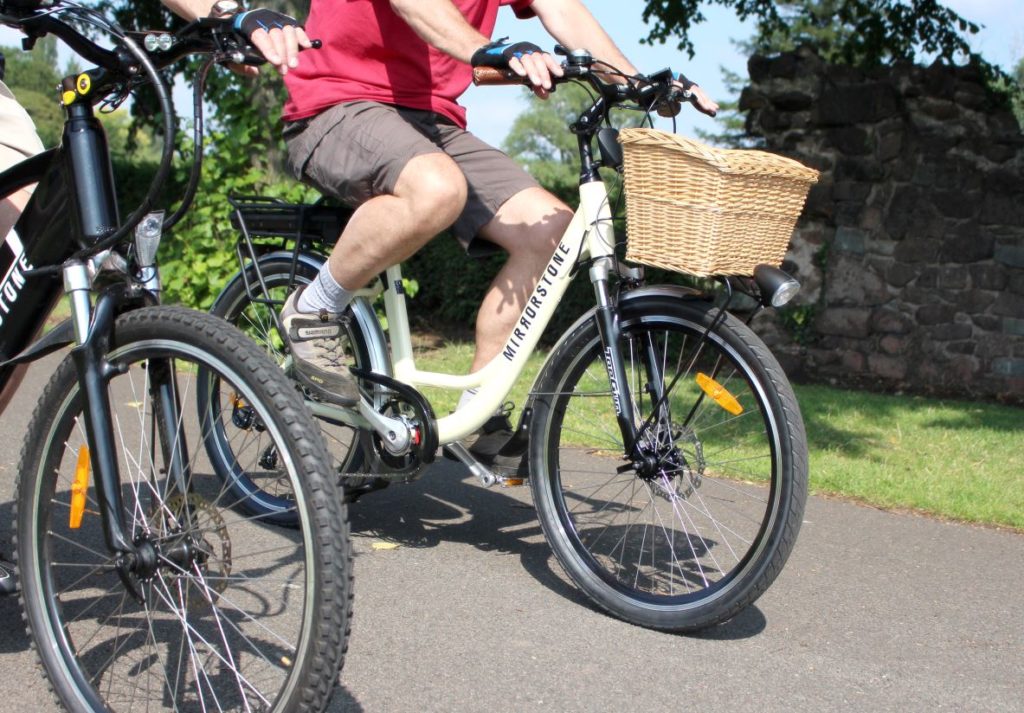 For longer journeys, or commuting to work, using cars less seems impossible. No one wants to show up to work a hot, sweaty mess from biking or public transport, and neither should you have to. This is where E-Bikes should be taken into consideration.
What should be remembered is that you won't be stuck in any traffic, or feel suffocated by overcrowded public transport if you make the switch. You will be happily be able to cruise along in the bike lane.
A study was recently conducted by the Transport Research Laboratory showing that just 46% of regular bikes make it out of the shed at least once a week.
On the other hand, 30% of those with E-Bikes use them daily, and 81% ride them at least once a week. In short terms, this means they give you the motivation to ride them more often and to use them for journeys where cars really are not required.
How Does It Work?
Travel further, longer and quicker with the use of the minicomputer which keeps track of all the important stuff so you don't have to. This electrical motor has a mass of settings in order to keep it distinct from a regular bike.
Firstly, it has a speedometer and a battery indicator, so you can keep on eye on how quick you're going, and how much support you have left. Then, there is also push assistance. This handy feature gently propels the bike along, as all you need to do is steer and allow it to do the work.
Additionally, you will have throttle and pedal assist. The throttle assist means all the work is done for you, you won't even need to pedal!
On the other hand, the pedal assist simply helps you out when you need it. So, when you're going uphill, or when you're starting to get a little tired. Of course, you can still pedal and do the exercise yourself, but it's nice to know you can have that little extra boost.
For a simple commute, we recommend going for the Vintage Dutch Style Electric Bike Black 26" Wheels. Delicately designed, it is truly stunning, and can be found in a range of colours.
If you want to take it to the next level, take a look at the Fusion Electric Mountain Bike (26" Wheel) 36V 10.4 AH Lith Battery. The opportunities will be endless with the ability to go wherever you please.
If you have any further questions about our E-Bikes, or what the SR15 IPCC reports means for you, feel free to get in touch and give us a call on 0116 321 4123, or send us an email to support@pluginbikes.co.uk.
You can also reach us on our Facebook, Twitter and Instagram.